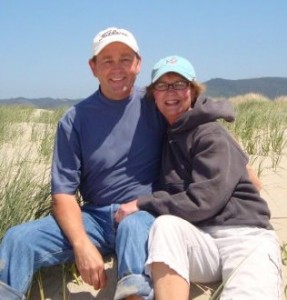 Mud Pie Pottery is a 2 person studio located in the hills of South Salem, Oregon.  Cheri is the potter/artist and her husband Dave completes the work by glazing and firing each piece in their high-fire stoneware kiln.  They have worked together in the pottery studio since 1974, one year after they were married.  Dave and Cheri have two grown children, an ever-growing number of grandkids, and have been blessed with a wonderful life of working together doing what they love to do.
Cheri has been throwing pots since 1970 when she took a class at a small Art Center in Portland, Oregon.  She studied for 1 1/2 years at Portland State University and then took on an apprentice position at Clackamas Community College where she fine tuned her skills and made the decision to become a professional potter.  Cheri has never had a day that she regretted that choice!  Cheri as taught dance aerobics for 25+ years and is currently one of the cuer/instructors for one of the fastest growing clogging clubs in the Northwest, The Cherry City Cloggers.  Cheri is also Youth Minister at her church, Queen of Peace Catholic Church in Salem, Oregon.  Although she leads a very busy life, Cheri looks forward to every second that she is able to spend working in her studio.
Dave became interested in the process when they purchased their home and property and Cheri created studio space in a small shed on the property.  Dave became a part of Mud Pie in 1975 and has been working with Cheri ever since.  Although Dave has never developed the desire to be a potter and actually produce the pieces, his gifts are geared toward the glazing, firing, and marketing of their wares.  Dave loves the freedom that this profession gives him.  His schedule is flexible enough that he can enjoy his other love, golf! Dave is a top notch amateur golfer and enjoys the friendship and the competition this sport provides.  Dave is very active in his support of Cheri's other endeavors and helps out with her youth program whenever he can.  Although he is an active participant in her aerobics classes, it will be a miracle for sure if he ever puts on tap shoes and starts cloggin'!!!!!
Although their children, Kelsey and Ben, have never shown any interest in becoming a part of the business, they are both very supportive of what their parents do and lend a hand whenever and wherever needed.
We will do our best to convince our grandkids that life as artists is a poor man's paradise!  We hope that they will at least enjoy playing in mud with their Grandma and Grandpa!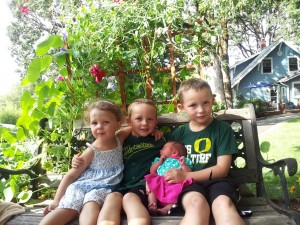 The Mud Pie Pottery Studio and Gallery
2302 Kuebler Road South
Salem, OR 97302
503-399-1606
Visit us at Facebook.